Five Reasons Why I Like: "Stone Cold" Steve Austin
Something new I'm starting up here. The Keystone Statement nearly doesn't have enough wrestling articles kicking it's pages so that's why I'm gonna go forth with "Five Reasons Why I Like" where I'll give you, our fine reader, my top five reasons why I like a particular wrestler, be it from the past or the present.
If you didn't know, I'm a pretty big fan of wrestling. Not so much of the current mainstream product, but more of what wrestling used to be. Stories actually relied on the rivalry of sport and the people involved in them much more heavily than just pure athleticism. Let's face it, the wrestlers and the stories (well told ones) are kind of the reason to watch wrestling in the first place. While impressive feats of strength and athletic ability are terrific aspects of the genre, they aren't absolutely necessary. If I want to watch insane athleticism, I'll flick on the Stanley Cup (which I will be tonight, Go Pens). Actually, you could make an argument that wrestling storylines have played out better throughout the course of the bid for Lord Stanley much better than it has on Monday Night Raw (I point to catfish on the ice, suspect officiating, and everyone trying to murder Sid for reference).
The great thing about wrestling (if you weren't aware) is that it is predetermined so it lends itself to a fine story being brewed over a vicious cockfight rivalry between someone that's likable and someone that isn't. Stuff that UFC is great at promoting, but more times than not can't deliver on the payoff, because guess what? It's not pre-fucking-determined, ya big goof.
Wrestling has the unique perk of knowing the outcome of matches, but don't tell that to Vince McMahon and his ballyhoo group of corporate "yes" men in the WWE. He looks at that as a detriment more than a benefit because wrestling's "not fooling anybody anymore" (which, c'mon, it's not supposed to). Goodwill, good storytelling or good promotion has not stuck well with Vinny Mac during his 71 years on the planet earth (some may argue he's not from here) and neither has the art of "keeping kayfabe" (acting like the stories and wrestler personas are legit). Wrestlers nowadays posts Tweets, Instagram photos, you name it on their social media of the "good guys" pallin' it up with "bad guys" - dogs and cats living together, mass hysteria!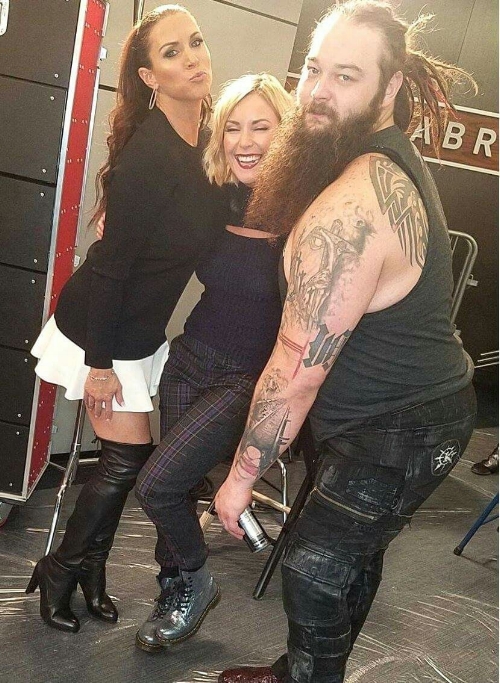 Does the guy on the right look like an evil backwoods cult leader with mystical powers or the tatted up, PBR-pounding bartender friend that got you tickets to the NOFX show on Thursday?
Could you imagine Conor McGregor hugging it out with Nate Diaz and his special lady? Or "The Russian Bear" Ivan Koloff posing for a Snap while mini-golfing with Bruno Sammartino? Hell no, it would totally dump on their personas and the promotion of the match. This kinda stuff runs rampant nowadays and it really takes away from the allure and mystery of what used to be the "rebellious" business of professional wrestling. It was a land of outlaws settling scores in between a set of ropes, now it's mostly a couple of buddies putting on an athletic form of kicks and flips all in the name of "entertainment". Think of how pissed you get when you see Steelers rubbing elbows with Ravens players after a game and you pretty much have the pro wrestling equivalent.
Which leads me to one of the business's biggest in-ring outlaws of all-time:
Awwww gimme a hell yeah - "Stone Cold" Steve Austin. The "Stone Cold" persona was WWE's biggest anti-hero in the late-90's by going against the super-evil, super-corporate owner of the once known as World Wrestling Federation, Mr. McMahon (un-fun fact: since then, Vince has tried to remove the word "wrestling" from every thing. It's oddly Orwellian, if Orwell liked fart jokes, didn't respect his fan base and had a bodybuilding fetish). He, along with WCW's New World Order, rejuvenated pro wrestling into a boom period and Austin became the hottest act in all of the squared circle.
So taking that into consideration, there was a lot to like about the Texas Rattlesnake. Let's start with the obvious one:
5. He Was Anti-Establishment
We all gotta work for "the man" to pay them bills, even if you get along with said "man" or not. The Austin character wrestled under the WWF umbrella, but he had the luxury of stunning his boss every Monday and once a month every Sunday - something anyone with a tyrant of a employer would love to do from time to time. This trait wasn't just the Stone Cold we saw on television though. Backstage Austin, although not a troublemaker of any sort, very much marched to the beat of his own drum when it came down to business and the handling of his on-air persona. He didn't take any shit and knew that he had enough pull that he'd never have to. Towing the corporate line just wasn't gonna happen.
4. A+ In The Ring & On The Mic
There's a lot of wrestlers that are amazing at the "wrestling" side of professional wrestling, but there's only a handful that also exceed in the art of cutting promos too - Austin has both of those in spades. Before a really bad neck injury after wrestling the late Owen Hart in 1997, Stone Cold was well-renowned for his technical ability inside of the ring. Whether it was his matches with his Hollywood Blonds tag partner, "Flyin'" Brian Pillman, in WCW or his early tenure in the WWF, Austin would time and time again deliver the best wrestled match on the card. It really wasn't until his short stint in Paul Heyman's ECW and more notably his infamous King of The Ring promo in 1996 where he'd be able to show off his work in front of a microphone. Watch him dish out a very entertaining "word to the wise" to ol' Donny boy:
Some of this was hilarious while other parts were all in the business of kicking ass and taking names, that's when you know you have a gem of a star on your hands. A beer-drinking, no bullshit taking, middle-finger flipping gem.
3. He's One Of The Smartest Minds In Wrestling
Austin's career was ultimately cut short in 2001, but he certainly accrued enough knowledge from his time in the ring and from being on the road with seasoned vets to know what gets over (and what doesn't) in wrestling. That neck injury in 1997 that inhibited his technical wrestling ability? Austin knew well enough to adjust his style from technical to brawler to not only accommodate his limitations, but to fit his hot as fire "Stone Cold" character. He also knows the intricacies of working a crowd and was apart of the infamous "double turn" at WrestleMania 13 between him and Bret Hart which many (including myself) consider that to be the greatest WrestleMania match of all time. And if Twitter was a thing in 1998, he wouldn't post a shot of himself on Twitter with the Undertaker sharing laughs at a TGI Friday's.
2. He Still Loves Wrestling
If you're aware of the historic carnival ties to professional wrestling, it's all about making bank and from a financial standpoint, Austin is set for life. There are many guys in the business that money is all they care about so they make their checks and then they get out, and hey, that's fine, but there's something likable when a wrestler actually likes wrestling. Even after not lacing up the boots for 16 odd years, "Stone Cold" Steve Austin still loves wrestling. He watches old matches and promos in his free time and tries to give back when he can - mostly by trying to give advice to the younger talent when it comes to getting their star to shine brighter. It's very cool to see someone of his caliber to love the history of wrestling and show concern for the future of it.
1. Dude's Got Swagger
Austin's got the ever elusive "It Factor" that's hard to capture in professional wrestling. Even if he wasn't hammering beers and stunning billionaires he's had it pretty much from the get-go. Here's a couple of Austin's personas before he became "Stone Cold":
That right there is "Stunning" Steve Austin from the Hollywood Blonds: a bleached blonde Texan billed from Hollywood, California. Even with that head-scratcher of an origin story, Austin's in-ring ability and aforementioned "It Factor" (along with his partnership of Brian Pillman and Paul Heyman) made him move his way to the tag team belts and eventually to a U.S. Title reign. Despite this, Eric Bischoff decides he doesn't like talent and cuts Austin loose where he soon finds himself in the WWF as...
The Ringmaster. Managed by "The Million Dollar Man" Ted DiBiase, this Austin persona was self admittedly basic AF. He was called "The Ringmaster" simply based off of his in-ring ability and nothing else. DiBiase was used as Austin's mouthpiece when he clearly didn't need one, but the "Stone Cold" outlaw that Steve was soon managed to get himself a spot at the top of the card to become the biggest badass in pro wrestling history which graced us with many moments akin to this:
And that my friends, is the bottom line. #DTA